Best Priced LG F4J5TN4WW 8KG 1400 Spin Washing Machine - White At Argos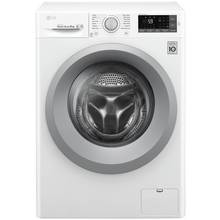 LOWEST PRICE SEEN:
£379.00
HIGHEST PRICE SEEN:
£379.00
2018-02-09 09:06:19 - 379.00
Product description of the LG F4J5TN4WW 8KG 1400 Spin Washing Machine - White
The F4J5TN4WW holds an 8KG Drum Capacity capable of 1400RPM. Motorised by the Inverter Direct Drive Motor and capable of 6 Motion Direct Drive washing this appliance supports multiple Wash Programs and is Energy Efficient. Connected through Smart ThinQ with NFC this machine is housed in a Luxury Silver design, controlled via a TFT LCD Display and is fitted with a Silver Door. A high quality LG Washing Machine. Leading the way for a quieter, cleaner wash No belt and pulley: - Less Noise - Saves Energy - Larger Capacity - Increased Durability By eliminating its belt and pulley, LGs Inverter Direct Drive System increases the motors efficiency. Due to its design and unique to LG, 6 Motion Direct Drive is able to perform various drum motions or a combination of different motions depending on the wash programme selected. Combined with a controlled spin speed and the ability of the drum to rotate both left and right, the wash performance of the machine is greatly improved. Forgot to Include those essential items but the cycle has already started; Simply press Pause; and wait for the cycle to stop. The door will open, then add in your items, anything from small socks to a big jacket. Overview: Wash capacity 8kg. 14 programmes. Variable spin speed. Variable temperature. 30 minute quick wash. Manufacturers 2 year guarantee. Size H85, W60, D56cm. Programmes: Baby. Cottons. Darks. Delicates. Economy. Half load. Hand wash. Intensive. Mixed. Pre-wash option. Quick wash. Refresh. Sensitive. Shirts. Silks. Spin and drain. Sports. Synthetics. Wool. Controls: LED display. Dial control. NFC enabled. Time remaining indicator. Performance: Energy efficiency class A+++. Spin speed 1400rpm. Estimated annual energy consumption: 132kW/year. Estimated annual water consumption: 10700 litres/year. Estimated energy consumption per cycle: 0.71kWh. Estimated water consumption per cycle: 46.52L. Spinning performance rating A. Washing performance rating A+++. Spinning noise level 73dB(A). Washing noise level 55dB(A). 0.44% moisture remaining after 60 cycle. General features: Child lock. Cold water fill. Overflow protection. Pause facility. Weight 63kg.