Best Priced Samsung WW70J5555MW 1400 Spin 7KG Washing Machine - White At Argos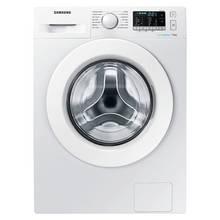 LOWEST PRICE SEEN:
£379.99
HIGHEST PRICE SEEN:
£529.99
2018-02-21 08:05:14 - 494.99
2018-02-09 09:06:23 - 389.00
2018-01-01 10:06:39 - 529.99
2017-12-25 03:06:50 - 379.99
2017-12-08 08:07:03 - 419.99
2017-11-29 07:07:34 - 529.99
2017-09-15 07:06:16 - 399.99
2017-09-13 08:07:06 - 419.99
Product description of the Samsung WW70J5555MW 1400 Spin 7KG Washing Machine - White
Samsungs ecobubble technology creates bubbles that penetrate your clothes faster so you can run cooler washes. With our diamond embossed drum, clothes are prevented from snagging. Plus, it has a 15 minute quick wash programme for your convenience. Our efficient ecobubble technology mixes air, water and detergent to create bubbles that penetrate your clothes faster, helping you wash at cooler temperatures. Better for the environment and your bills. Bubble Soak: Whether its cotton, synthetics or baby clothes, add a 30 minute bubble soak to any of your preferred programs at the touch of a button. Then let our unique ecobubbles penetrate deep into the fabrics to loosen tough stains ; giving you a thorough and efficient clean after every soak. Overview: 14 programmes. Variable spin speed. Variable temperature. 15 minute quick wash. Manufacturers 5 year guarantee. Size H85, W60, D55cm. Programmes: Baby. Cottons. Darks. Delicates. Economy. Automatic half load. Hand wash. Intensive. Mixed. Pre-wash option. Quick wash. Sensitive. Spin and drain. Synthetics. Wool. Controls: LED display. Dial control. 24 hours delayed start. Time remaining indicator. Performance: Energy efficiency class A+++. Spin speed 1400rpm. Estimated annual energy consumption: 153kW/year. Estimated annual water consumption: 7400 litres/year. Estimated energy consumption per cycle: 153kWh. Estimated water consumption per cycle: 7400L. Spinning performance rating B. Washing performance rating A. Spinning noise level 79dB(A). Washing noise level 62dB(A). 0.44% moisture remaining after 60 cycle. General features: Child lock. Cold water fill. Pause facility. Weight 64kg.